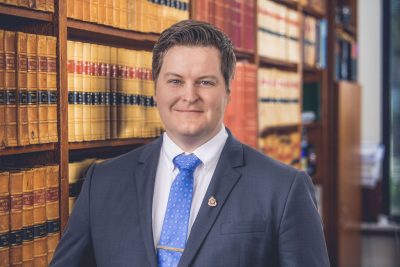 Nationally Accredited Mediator
Accredited Family Dispute Resolution Practitioner
Year of Admission:
2018
Jurisdictions Admitted:
High Court
Queensland
Professional Qualifications:
Family Dispute Resolution Practitioner (Bond University)
Master of Business Administration (Charles Sturt University)
Post-Graduate Diploma Legal Practice (Generalist specialisation) (Bond University)
Bachelor of Law with Honours (Bond University)
Bachelor of Arts majoring in Criminology and International Relations (Bond University)
Diploma of Military Leadership (Australian Army)
Diploma of Justice Administration (Gold Coast Institute of TAFE)
Member of Bar Association of Queensland
Areas of Practice:
Administrative Law.
Alternative Dispute Resolution.
Appellate Law.
Commercial Law.
Commissions of Inquiry and Inquests.
Criminal Law.
Employment and Industrial
Environment and Planning
Equity Law.
Family Law.
Injunctions
Insurance / Personal Injury / Common Law.
Military / Veterans Rights and Entitlements
Minor Civil Disputes
Traffic Law.
About Nathan
Since Nathan's admission to private practice he has conducted a number of criminal, family and civil hearings and applications, and has appeared in both Federal and State courts regularly.
Nathan is a Nationally Accredited Mediator and has undertaken further specialist mediation training at Bond University completing the short course in Family Dispute Resolution and thereafter becoming accredited with the Attorney-General's Department as an accredited Family Dispute Resolution Practitioner.  Due to Nathan's fair and considered approach he performs successful mediations with positive outcomes.
He is proud to work with regional partners, including the Gold Coast and Darling Downs legal communities.
Prior to entering the legal profession Nathan was a Constable in the Queensland Police Service, serving in Far North Queensland.  Nathan left the Police Service to commence studying Law at Bond University where he graduated in 2010 with a Bachelor of Laws with Honours and a Bachelor of Arts majoring in Criminology and International Relations. Nathan went on to complete a Post-Graduate Diploma of Legal Practice at Bond University, allowing his admission to the Supreme Court of Queensland in late-2010, where he then commenced practise in a busy boutique criminal law firm.  Nathan has had experience working in criminal and family law firms, and also within the Office of the Director of Public Prosecutions (Qld).
Placing his legal career on hold, Nathan commissioned in the Australian Defence Force undertaking training as a Maritime Warfare Officer and then lawyer in the Royal Australian Navy, before transferring into the Australian Army commencing General Service Officer training at the Royal Military College – Duntroon.  Nathan was selected to undertake training overseas and graduated from the Officer Cadet School, New Zealand in 2014, having trained for a year in the austere environment of Waiouru.  Nathan commissioned as a Lieutenant and was assigned into the Royal Australian Infantry Corps, undertaking roles as a Rifle and Specialist Platoon Commander within the Second Battalion and the Royal Australian Regiment (2 RAR).  Nathan was later selected to be a Military Instructor, graduating three intakes of Recruits into Full time and Reserve service.  Upon promotion to Captain, Nathan transferred to the Australian Army Legal Corps where he served until his honourable discharge from the Australian Defence Force.
Whilst maintaining a busy military career, Nathan undertook private study completing the Queensland Bar Exams in 2017 and accepted a place in the Queensland Bar Association Bar Practice course which he complete in 2018.  Nathan has also completed a Masters of Business Administration (MBA) from Charles Sturt University.
Nathan is also a member of French Quarter Chambers in Carrara on the Gold Coast, and is available to meet clients either in Brisbane or the Gold Coast.
"Liability limited by a scheme approved under professional standards legislation"