Bennett Chambers is made up of many experienced barristers, some who have been at the bar for over 30 years, while others admitted more recently.  Our barristers are a diverse group and cover many areas of law, including but not limited to, criminal, family, commercial, employment, health practitioner law, and assistance with Military rights and entitlements.  Prior to coming to the Bar and joining Bennett Chambers, many of our barristers had earlier lives in the law or ancillary to the law such as police officers, police prosecutors, coroners, crown prosecutors, and members of the Australian Defence Force, while others have a background in healthcare and business operations.  As a result, they bring with them their rich life experience which they bring to bear on their practice as a barrister.
As some of the Barristers at Bennett Chambers are Nationally Accredited Mediators, Family Law Arbitrators,Commercial Arbitrators and accredited in Family Dispute Resolution we are able to offer mediation and arbitration services.
It remains the intention of the members of Bennett Chambers to serve the law and people with distinction and always endeavour to create the level playing field and deliver social justice and seek to obtain justice for all.
bennettchambers_admin
Nathan Laing recently undertook further specialist mediation training with Bond University completing the short course in Family Dispute Resolution and thereafter becoming accredited with the Attorney-General's Department as a Family Dispute Resolution Practitioner, adding to the Alternative Dispute Resolution services provided by Bennett Chambers Group.
Bennett Chambers
Bennett Chambers are still open! Even through these trying times Bennett Chambers remains open and our barristers are available to assist you. Please note we abide by the social distancing rule and provide a clean working environment and where possible we are endeavouring to have face to face meetings replaced with telephone and video meetings.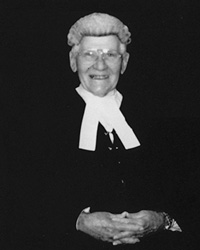 BENNETT CHAMBERS HISTORY
Our chambers are named after Colin James Bennett, one of the longest serving barristers at the Queensland Bar having practiced continuously for over 45 years.
He graduated from the University of Queensland with an Arts degree in 1940, and a Bachelor of Laws in 1942.  Upon the completion of his university studies, like many of his era, he volunteered for military service during WWII.  After serving his country he returned to the law firstly as a legal officer with the Commonwealth Crown Law office from 1945 to 1948 and then he practiced at the Queensland Bar from 1948 to his retirement in late 1994.
His philosophy was that all people deserved the best of legal representation whether they were strong or weak,  rich or poor.  His belief was that the law and the justice system merely created a forum for the airing of civil and criminal disputes, but that a level playing field only ever existed when a well trained and committed barrister was prepared to step up to the plate and vigorously defend the rights of the weak and the poor thus giving them equality with the strong and the rich.  In the modern era this concept of equality for all persons is termed social justice.
Each member of Bennett Chambers Group embraces that philosophy and that belief.