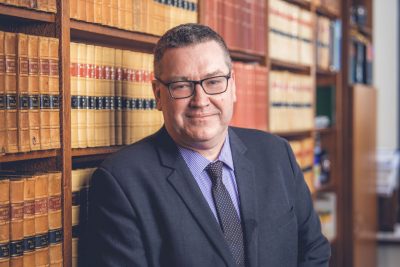 Nationally Accredited Mediator
Year of Admission:
2011
Jurisdictions Admitted:
High Court
Queensland
Professional Qualifications:
Bachelor of Law with Honours (Queensland University of Technology)
Diploma in Legal Practice (Queensland University of Technology)
Bachelor of Justice Administration (Queensland University of Technology)
Member of Bar Association of Queensland
Areas of Practice:
Appellate Law.
Alternative Dispute Resolution.
Commissions of Inquiry and Inquests.
Criminal Law.
Family Law.
Insurance / Personal Injury / Common Law.
Traffic Law.
About Jason
Jason has over 20 years of Court experience, consisting of 9 years as Counsel and 23 years as a Police Officer and Police Prosecutor for the Queensland Police Service.  Jason has specialist knowledge of criminal law, evidence and procedure, due to his accumulated knowledge gained through years of experience in the Courts, particularly in the sentences, trials (jury trials, summary hearings and committal hearings), 590AA's, appeal proceedings, and contempt proceedings in Planning and Environment Court.
Jason is a Nationally Accredited Mediator and achieved his accreditation through QUT.
Due to the breadth of Jason's experience he is involved as a moot court magistrate in legal practice courses at university level. 
Examples of Jason's advocacy experience can be seen in LJO v Commissioner of Police [2013] QDC 193; Brisbane City Council v Bowman & Ors [2013] QPEC 062 (13/1703); Spencer v Commissioner of Police [2017] QDC 273.
.
Legal Aid
Jason is available for Legal Aid work on request.
"Liability limited by a scheme approved under professional standards legislation"