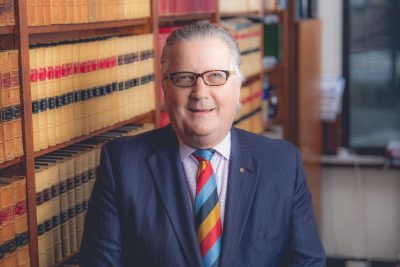 Nationally Accredited Mediator
Family Law Arbitrator (FLA Reg 67B)
Year of Admission:
1989
Jurisdictions Admitted:
High Court
Queensland
New South Wales
Northern Territory
Victoria
Professional Qualifications:
Bachelor of Laws (LL.B.) from Queensland University of Technology
Master of Laws (LL.M.) from Bond University
Bachelor of Civil Law (BCL) from the University of Queensland
Master of Laws (LL.M.) from the Queensland University of Technology
Member of Bar Association of Queensland
Member of Bar Association of Northern Territory
Areas of Practice:
Alternative Dispute Resolution.
Appellate Law.
Bankruptcy / Insolvency
Commercial Law.
Commissions of Inquiry and Inquests.
Corporations Law
Criminal Law.
Equity.
Family Law.
Injunctions
Wills / Probate / Estates.
About Peter
Peter has been a Barrister at Bennett Chambers Group in Brisbane in Queensland for over 30 years and he has been a Visiting Member of William Forster Chambers in Darwin in the Northern Territory since 2013.  Over this time Peter has gained a broad grounding in criminal law; professional regulation and discipline law; civil law; commercial and corporate law; personal and corporate insolvency law; family law; and wills, estates and succession law.

Peter has appeared in numerous Courts and Tribunals throughout Australia including the Magistrates Court of Queensland, the District Court of Queensland, the Supreme Court of Queensland, QCAT, the Federal Circuit Court of Australia, the Family Court of Australia, Family Court of Western Australia, the Federal Court of Australia, the Northern Territory Local Court in its civil, criminal and regulatory jurisdictions, the Northern Territory Supreme Court in civil and criminal jurisdictions.

Peter is an experienced Trial Advocate in matters seeking interim relief as well as final relief, and Appeals.  In addition, Peter is an accomplished Nationally Accredited Mediator and Family Law Arbitrator.

Peter has excellent interpersonal skills and he is very inclusive: "He has Rudyard Kipling's ability to 'walk with kings, nor lose the common touch'."

Notwithstanding a good eye for complex detail, he adopts a common sense approach to his professional work.
.
Legal Aid & Other
As Peter has a strong sense of social justice and specialises in litigation, he accepts Legal Aid work in criminal, family and child protection matters as well as ICL work as well as pro bono work upon request.
"Liability limited by a scheme approved under professional standards legislation"